Does a TLD really matter for top local ranking?
Today, I stumbled across an interesting 7 pack SERP. The query is local seo and I'm currently sitting in Tustin, CA. Here's the string: As you will see 3 of 7 pack local results are junk....maybe even dangerous!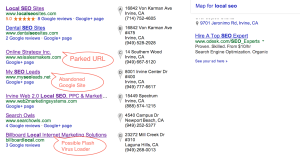 Online Strategy Inc. leads to a parked domain name.
My SEO Leads leads to an ABANDONED Google site.
Billboard Local Internet Marketing Solutions  leads to a Potential Virus Loader !
So I gotta ask: Does a TLD really matter?
Tags: Local Search
Posted by Greg Bozigian