Proven Results
Ready for a V2 highlight reel?  Take a look at what our Leadership magic has helped produce.
4.4 Million Unique Visitors in 3 Months
In this lean startup example, a leading national search network, Interchange Corp (NASDAQ: INCX), hypothesized about an opportunity in local search. Visionary View CEO & Founder Greg Bozigian was tasked with testing and measuring that vision and its various revenue models. Establishing an Enterprise innovation center, Local.com (NASDAQ: LOCM), Greg was able to launch the search engine successfully to include a robust product road-map and partner development strategy. Local.com has since processed millions of location based searches and boarded several top local publisher partners.
---
2 Million Paid Subscribers in 14 Months

Networks in Motion (NIM), now part of TeleCommunication Systems, retained The Visionary View product and business development team to assist in developing additional revenue streams based on performance advertising, local search and in app m-commerce.
---
33M Page Views in 11 months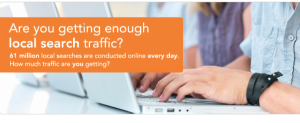 After providing the product leadership to launch a successful local search engine destination site, Local.com, Visionary View's CEO and Founder Greg Bozigian took advantage of the opportunity to syndicate local search technology and drive new local search traffic via private label directories.